Groundwater Basics
What is groundwater?
Groundwater is water that is found below the ground surface. About 30% of the world's fresh water is stored as groundwater while less than 1% is stored in streams, rivers, lakes and other surface water bodies. It is stored in and flows through aquifers and, to a lesser degree, aquitards.
What are aquifers and aquitards?
An aquifer is a layer of fractured rock, gravel, sand or limestone below the ground surface with enough space between the particles to hold groundwater and allow it to flow through. An aquitard is a layer of rock or clay below the ground surface that is tightly compacted and so water cannot easily be held within it or flow through it.
What are unconfined, confined and semi-confined aquifers?
Where the aquifer material between the ground surface and the water table is porous it is known as an unconfined aquifer. Where an aquifer is overlain by an aquitard it is known as a confined aquifer. Semi-confined aquifers occur near the edge of the confining layer (or aquitard) or where the aquitard is very thin or more permeable allowing more water to move through it.  Unconfined and confined aquifers react differently to change.
Aquifers and the water cycle
This diagram shows a cross section of aquifers and aquitards and a basic water cycle. Diagram: ©Spatial Vision Innovations Pty Ltd (2015)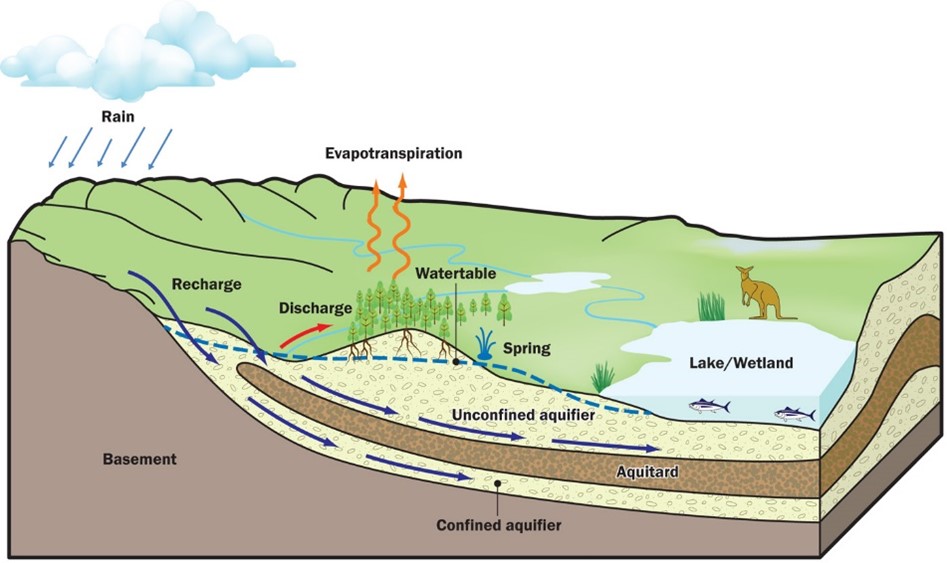 Groundwater Management
Why is it managed?
Groundwater is a valuable resource because it is generally a very reliable source of water that persists during dry periods when streams can run dry. It is also a much less expensive option than building large dams. Its reliability also makes it important for some ecosystems that depend on it during dry periods.
How is groundwater managed?
Groundwater is managed within a licensing framework that records user information, measures and records groundwater levels, meters use and applies rules such as caps on allocation, restrictions in dry seasons and transfers.
How are bores managed?
A licence is required to drill a bore. This is to ensure that construction is undertaken by a licensed driller and complies with Australian drilling standards. Records of bores that include the owner, driller, location, depth of bore, geology and any water quality sample results are stored on a database – the Water Measurement Information System.
How is groundwater use regulated?
With the exception of water used for D&S purposes, all groundwater use is licensed. Licences have fixed annual volumes and compliance is ensured through metering usage and field inspections.
How are aquifers managed?
Aquifers are managed differently according to their identified risks and how they react to use and climate. These risks include things such as the impact of falling groundwater levels on bores or Groundwater Dependent Ecosystems (GDEs) or the potential for saline intrusion. Where there is a high level of identified risk or where there is a high number of users Groundwater Management Units (GMUs) exist to ensure that the aquifer is managed sustainably by defining areas with caps on allocation and rules that relate to transfers and pumping restrictions. Local Management Plans explain how these caps, rules and restrictions apply.
Who is responsible?
Under the Water Act the Minister delegates authority to Southern Rural Water to administer the regulations around licensing that protect groundwater resources.  This includes:
Issuing works licences (bore construction)
Issuing new 'take and use' licences
Temporary transfer of a licence (trading)
Permanent transfer of a licence (trading)
Amendment to a licence
Surrender of a licence
Amalgamation of licences
Approval to dispose of matter underground
Setting allocation caps
Setting trading rules and other restrictions on the 'take and use' of groundwater
The Department of Environment Land Water & Planning (DELWP) oversees resource management and state policy. RWCs report information on licence volumes and use within groundwater catchments and basins to DELWP. There are several other agencies with important roles in groundwater management.
Groundwater Monitoring
How is groundwater monitored?
Groundwater is monitored by a network of observation bores.  These bores are part of the State Observation Bore Network (SOBN). The information collected from the SOBN is added to a database and analysed using hydrographs. Other information such as metered groundwater use, and rainfall can be used to help interpret hydrographs.  Water quality is tested in all new bores and more regularly in some observation bores.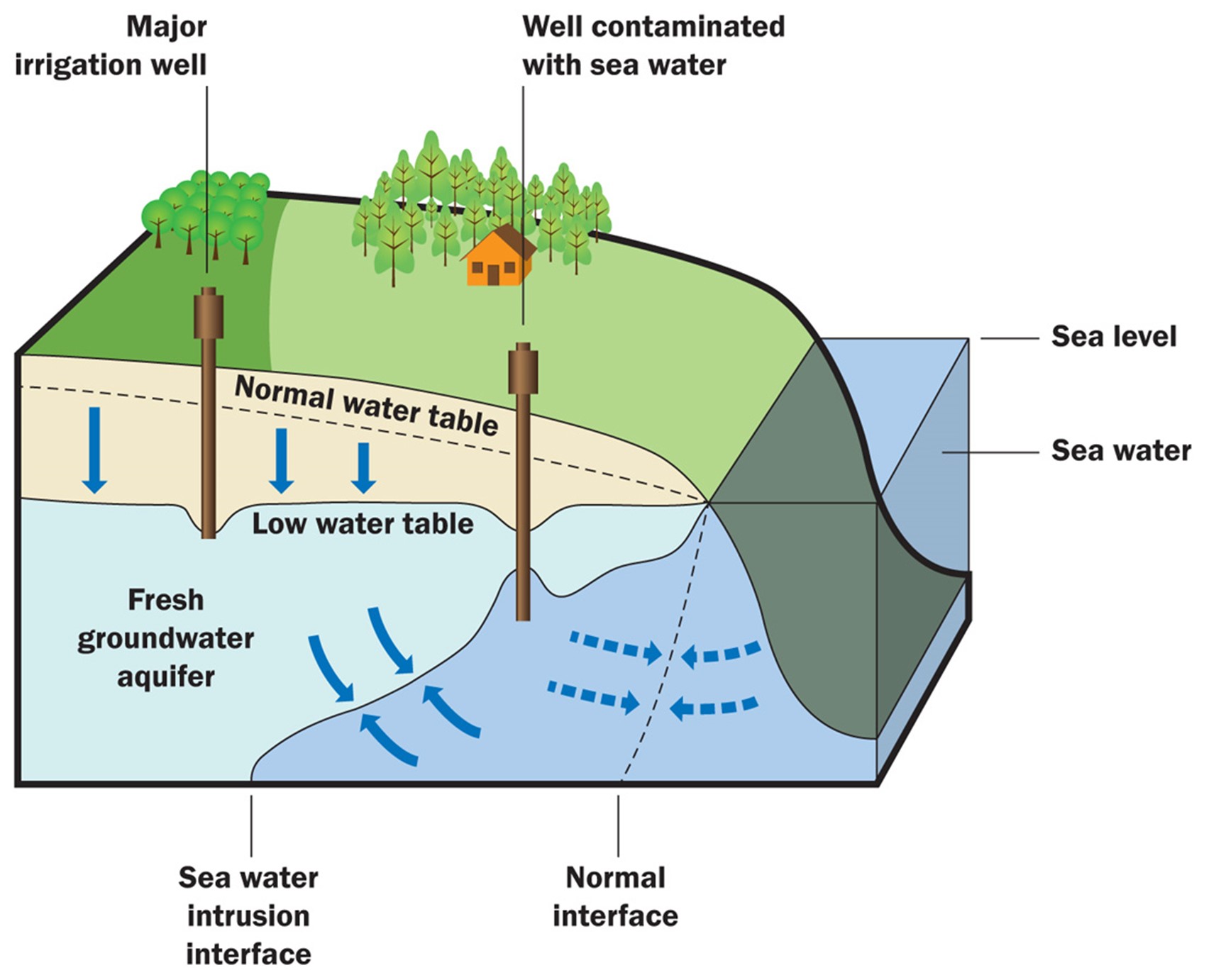 Aquifers in Southern Victoria
Groundwater is found in aquifers.  An aquifer is a layer of fractured rock, gravel, sand or limestone below the ground that is porous enough to hold groundwater and allow it to flow. An aquitard is a layer of rock or clay that may hold some groundwater but is not porous enough to allow it to flow significantly.
Southern Victoria can be broadly subdivided into three aquifer layers; the upper, middle and lower aquifers.  The aquifer layers are generally separated from one another by aquitards.  A cross section showing the relative position of the aquifer layers in the Westerns, central and eastern parts of our area is provided in Figures 1,2 and 3. Further information on these aquifers can be found in Southern Rurals Waters Groundwater Atlas's which can be found on the Groundwater page of our website.
Figure 1 –Cross-section showing the relative position of the aquifer layers (taken from the South West Victoria Groundwater Atlas).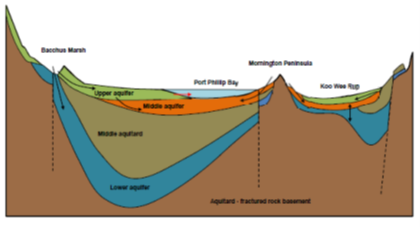 Figure 2 –Cross section through the East Port Phillip Bay Groundwater Catchment, taken from the Port Phillip and Westernport Groundwater Atlas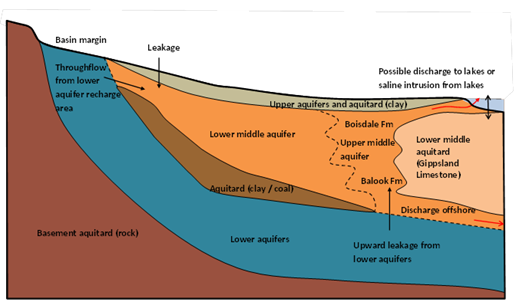 Figure 3 –Cross-section showing the relative position of the aquifer layers (taken from the Gippsland Groundwater Atlas)
For Groundwater Forms and fees click here.