Beautiful Blue Rock Lake, located in Gippsland near the township of Willow Grove, is one of Victoria's premier fisheries for Australian Bass.
Hours of operation
Recreation facilities at Blue Rock Lake are open between 8am and 8pm.
Facilities and what to do
Blue Rock Lake is popular for boating, fishing, kayaking, swimming and picnics. There is no camping available at any location around the lake. Facilities at our two recreation areas (Spillway Road and Old Tanjil Road) include:












Not permitted
While visiting our facilities you are not permitted to:
camp or stay overnight
have fires or fire pits
leave rubbish - all our sites are carry in carry out zones
reserve any picnic areas
drive or ride motorbikes along the shoreline or in fenced areas
enter prohibited areas
vandalise the facilities
hunt, carry or discharge a firearm
ride or walk horses anywhere, including in the water
use the park or picnic areas outside of opening hours
undertake any dangerous activities including abseiling, paraflying, shooting and archery.
Dogs must be on leads at all times.
Request to hold events
From time to time, people wish to hold events at our recreational facilities including festivals, birthday parties and weddings. We cannot close our recreational facilities for private events and you cannot book sites. 
You must have permission to hold any organised entertainment, rally, boating event or regatta, festival, public meeting, training class or demonstration, wedding or similar ceremony, or private functions for 30 or more people.
Please email us with your request in writing.
Boating rules
| Boating restrictions | Rules |
| --- | --- |
| Maximum boat length | No limit |
| Maximum output | No limit |
| Maximum speed | 15 knots, except in designated safety zones (5 knots) |
| No go zones | No boating in areas around SRW infrastructure and designated swimming zones |
Map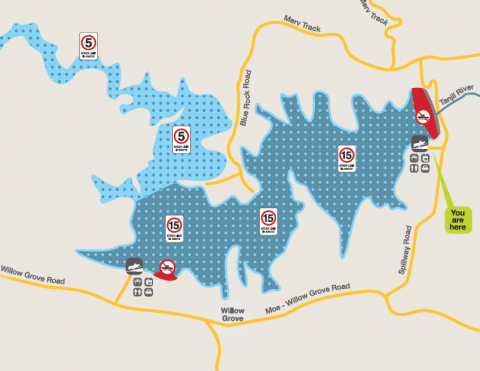 Blue Rock Lake is located on the Tanjil River in West Gippsland – VicRoads Reference Map 97 E3
Things to note
Note that Blue Green Algae outbreaks may affect access from time to time. View the BGA alerts page for more information.