Climate change refers to the change in global or regional climate patterns. It is an intensifying and increasingly complex issue that implicates all sectors on local and global scales. SRW believes that climate change requires urgent and significant action to ensure the sustainable development of communities and equitable use of resources over the coming decades.
An overview of climate change impacts in the Victorian context can be found below, which is taken from the Pilot Water Sector Climate Change Adaptation Action Plan (DELWP, 2018).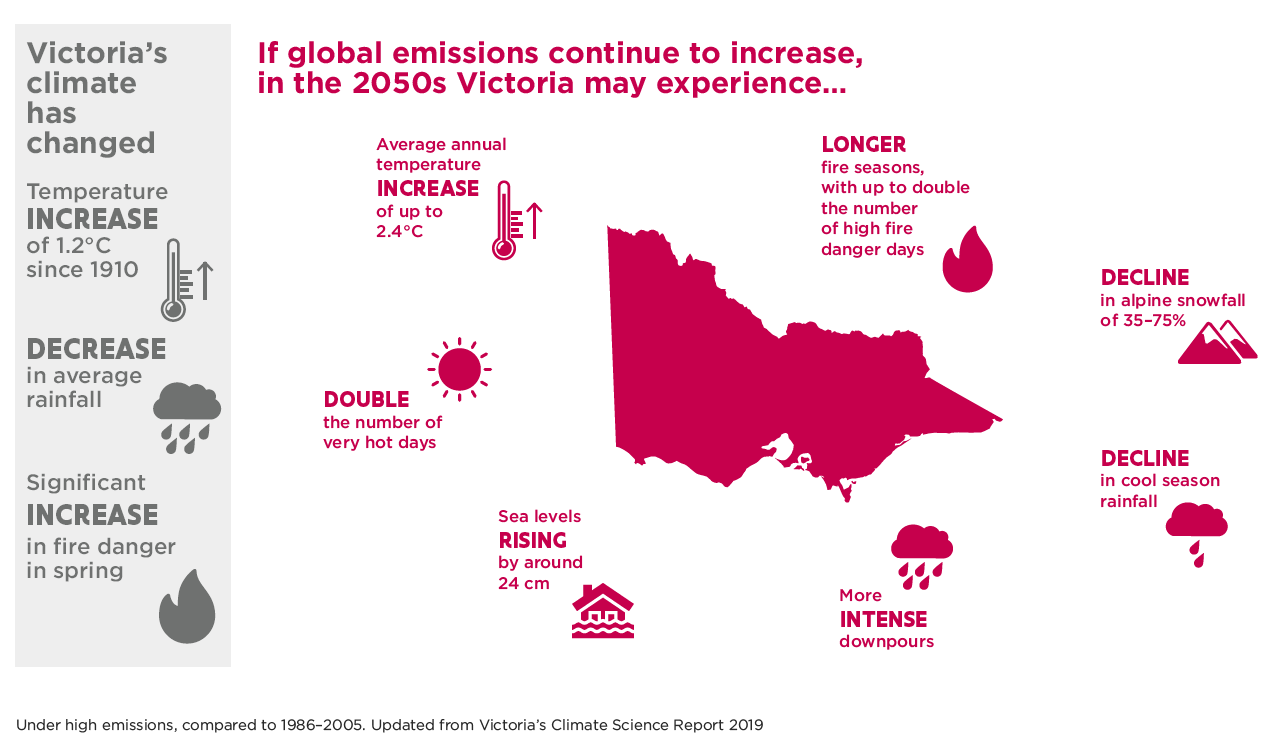 Though the scale, magnitude and timing of climate change impacts are uncertain, current climate science both acknowledges that climate change has and is occurring, and that future change is extremely likely. These impacts fundamentally affect SRWs business and that of its customers. As such, it is imperative that SRW adapts to climate change in the context of its current and future business and takes steps to reduce its emissions as a key driver of climate change.
SRW is implementing plans to both mitigate climate change (by reducing its emissions) and adapting to its impacts. It is important to note that mitigation and adaptation are two interrelated but distinct concepts, the context of which is described in the infographic below:
Emissions Reduction
Throughout 2016-2017, SRW developed its Emissions Reduction Pledge to achieve net-zero emissions by 2025 as part of initiatives outlined in the Victorian Climate Change Strategy (2021).
SRW has developed a Climate Change Mitigation Plan to assist in meeting its target of net-zero emissions by 2025. In doing so, SRW will actively contribute to reducing emissions, being the main drivers of climate change. Prior to the implementation of the pledge, SRWs emissions profile comprised of emissions from gas consumption and electricity consumption for the operation of offices, depots and pumps as well as emissions from vehicles. The Climate Change Mitigation Plan outlines SRWs process and initiatives to reduce emissions from facilities and services, ensure the most efficient use of emissions, as well as obtaining high-quality certified carbon offsets to address any residual emissions.
Ultimately, SRW is committed to taking take critical, transformative action to reach net-zero emissions by 2025 and beyond. SRW is implementing time-critical actions to reduce emissions now, and to embed mitigation practices into decision-making processes so that we can meet our obligations, ensuring the safety, longevity and prosperity of assets, operations, as well as our customers.
Climate Change Adaptation
Climate change is a ubiquitous issue that will impact on all facets of SRWs business,
operations, customers, and physical and societal context, now and into the future. Therefore, it is critical for SRW to undertake climate change adaptation. DELWP refers to climate adaptation as 'changes made to natural or human systems to prepare for actual or expected changes in the climate, in order to minimise harm, act on opportunities or cope with the consequences' (2016). This may involve altering infrastructure and management approaches of an entity to be able to respond to the effects of climate change upon it.
SRW has developed a Climate Change Adaptation Plan (2020) to ensure it is prepared and resilient to the challenges that climate change will bring. The Plan takes a whole-of-business approach towards building SRWs adaptive capacity and reducing exposure to climate impacts, providing strategic direction and actions for now and into the future. The Plan considers climate adaptation theory and practice and ensures SRW addresses legislative requirements, best-practice and SRWs vision and strategy.
With consideration of SRWs key vulnerabilities, current adaptive capacity and the likelihood of various future climate scenarios, this plan identifies five climate adaptation objectives that will guide planning and action over the coming years, establishing a strong foundation on which planned, transformational adaptation may occur.
The objectives are:
Addressing outstanding knowledge gaps regarding the impacts of climate change on SRW's operations and quantification of risk.
Embedding well-coordinated, evidence-based responses to climate change and incorporating adaptive planning into SRW's decision making.
Defining SRW's role in assisting its stakeholders to adapt to climate change.
Ensuring that SRW's water resources and built systems are resilient in the context of climate change.
Protecting biodiversity and natural ecosystems throughout SRW's areas of operation.
Recognising the fast-moving shifts in theory, science and other influential factors,
SRW will continue to manage climate adaptation with a dynamic and fluid approach.
Sources and resources