About the project
The BMID modernisation project involves the reconfiguration of the water supply system that supplies our irrigators in Bacchus Marsh to remove an ageing and inefficient Main Channel to generate up to approximately 1,000ML/year of water savings.
Stages 1 to 4 are now complete. The last remaining supply channel (Spur 12) will be piped in 2022 to complete the reconfiguration of the supply system following announcement of a 50% funding contribution from the National Water Grid Authority (Commonwealth) announced in the May 2021 Federal budget.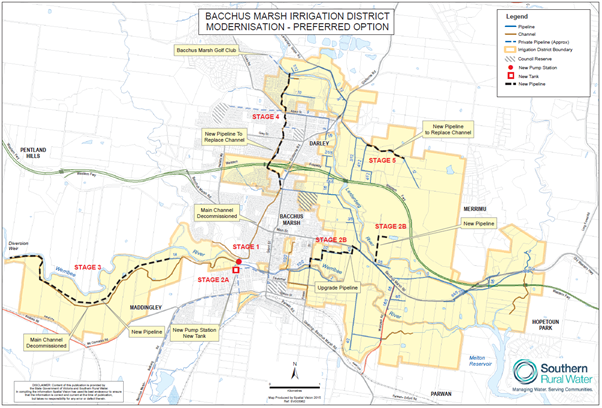 SRW is continuing to explore opportunities to provide liveability benefits along the old Main Channel corridor through Bacchus Marsh. In 2021, SRW entered into an agreement with Moorabool Council to provide access to construct a cycling corridor over our Stage 4 pipeline that replaced our old channel, refer to Aqualink project brings a new transit option for Bacchus Marsh for more information.